EPN Team was glad to have the opportunity of interviewing Mr Emir Kir, federal deputy and mayor of Saint-Josse.
Mr Emir Kir is a young Belgian politician with Turkish origins. In 1995 he joined the Socialist Party in Saint-Josse, and in 2000 he became an alderman of this municipality. In 2004 he started working as secretary of State and he largely contributed to the development of Brussels city. In 2010 he became federal deputy, and in 2012 he ran in the municipal elections, obtaining the largest number of preference votes and becoming mayor of Saint-Josse.
During the interview, Mr Kir shared with EPN some interesting facts and stories about his life. The interviewers asked him also to give some insightful advises and to send a clear message to the young generations of European citizens.
What are the reasons that pushed you to pursue a political career?
My family and my house were the reasons and the places through which I started my journey towards politics. For my father, it was important to transmit to his children the value of information and civil action; this is why since a young age I was involved in political discussions and analysis. Motivated by my family's ambience and by my father's beliefs, soon I became member of the Socialist Party in the commune of Saint-Josse. Interestingly, even if I was always involved in politics since a young age, at the same time I did not necessarily have the aspiration of being elected. Nevertheless, I followed the party's expectations and I presented myself as a candidate at elections, pushed by the support showed in my favour. Another reason that pushed me to run in the elections is that at the time there was a lack of young people engaging in politics; therefore I felt the responsibility to commit for my party and for the society I cared about. In a way, it was something that came out as natural, as my father educated me to political analysis and engagement in civil society, being my first "political educator".
How do you feel about your career? How does it feel to be the first mayor with Turkish origins in the francophone Belgium?
It is a privilege for me to have the possibility to perform high offices; I am very proud to politically represent the people. It is rewarding to have people and colleagues who trust in your opinion and with whom it is possible to make a change. These last few years have been useful because the initiatives that my party promoted with me had several positive outputs and achievements. I firmly believe that it is fundamental to take part in civil society's movements, associations, and political parties. It is the only way to promote and strengthen democratic representation.
Unfortunately, some forms of racism and extremism remain when it comes to perform high offices. Nevertheless, I hope that Belgium will always be a country able of welcoming people with different origins and backgrounds.
Do you have a personal hero?
I consider my father as my personal hero. He came to Belgium to earn his leaving by working in the mines, and he was a man of strong convictions; he inspired me because I learned from him how to talk and interact with other people, and how to be against violence. Other people had an important influence on my life and career: my teachers and educators, and the politicians I met during my life. I was always inspired by people, and I have always liked to take small things form everyone, learn from them and then make them a part of who I am. I think I am the product of all the exchanges I had in my life, because people build their own personality through the others.
What is the most important quality to be a successful professional?
There are two important qualities to be a successful professional. The first one is intelligence. It is fundamental to develop doubts on everything that surrounds us, and to constantly update our knowledge. The second quality is the capability of listening to other people. It is not possible to give a contribution if we are not able to listen to the others' opinions and needs, in the first place. At the same time, this does not mean that we should give up on our convictions; it means that we have the opportunity to enrich them.
A third quality that can be added to the ones already mentioned is the willingness.  Some sort of "grinta" is needed. Some people have it and some people do not. Personally, I feel I can lift up the mountains. Anyways, I believe that a balance between intelligence, willingness and concreteness is needed. It is important to think, study and analyse, but afterwards it is also fundamental to act.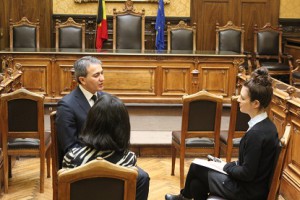 If some issues and problems occur, how do you face them?
The most important thing is to listen to other people. Indeed, the consultation with the different actors among the civil society is the best way to face emergencies and solve problems. Only through the acquisition of technical information and benefitting from different points of view it is possible to responsibly take decision on all kind of issues, and make sure that projects match citizen's expectations.
Do you have any hobbies? How do you balance your professional and your personal life?
I am a politician, but I do not forget about personal like and hobbies. Above all, I consider my family as my first hobby. Even if I am always very busy, I try to spend as much time as I can with my loved ones. For instance, I always try to participate to my children's activities. I can also say that my favorite hobby is the human being. It is really important for me to spend time with people because this gives me the opportunity to learn a lot and to enrich my spirit.
Finally, when I have free time I like to do some sport. I think that only with a healthy body it is possible to have a healthy mind. This way it is easier to feel better also in relation to other people.
It seems you are successful in your personal and professional life. What is the message you would like to send to the young generations in order to encourage them on their path to a successful career and life?
In our contemporary world diplomas are essentials but not enough. It is necessary to add further skills which are not acquired at school. People have their own problems and maybe moments of despair, fearing they will not success. However, it is fundamental to keep in mind a few points: first of all, everybody has a place on earth; secondly, failure has to be considered as an opportunity to improve ourselves and to further focus on our goals. Indeed, the failure needs to lead people to a constructive logic.
Moreover, I believe that for young generations, it is fundamental to understand the importance of work and action. Facts shows that there are problems, thus people can make their own reflections and have different opinions; but the moment comes when it is time to act, to try to make a change. Therefore, I always try to show and to teach to young people the importance of commitment to important matters and to work.