As European Professionals Network (EPN), we have newly initiated a project called "The inspiring professional of the month" in which we conduct interviews with quite successful professionals whose life stories and wide experiences, we believe, could be inspiring and encouraging for particularly young professionals. As we were thinking about the names, one of the first names that came to our mind was of course Fahhan Ozcelik who has a distinguished professional career with more than 25-year experience. He kindly accepted our invitation and visited us at our office in Brussels for an interview.
Fahhan Ozcelik, born in 1957, works as a consultant in the food sector since 2009. He previously worked as a manager in international industrial food companies, such as Burger King, PepsiCo International and Frito Lay, in Turkey and Saudi Arabia. He lives in Belgium, is married and has a daughter.
After many years of working for various industrial groups, now you work as an independent consultant in the food sector, mainly the quick service restaurants. Can you tell us about your professional choices?
In 2009, I moved with my family to Belgium, my wife's country, to let my daughter study photography. I decided to pop up my business and set up as a consultant specialised in quick service restaurants thanks to the connections I built throughout my career. For the time being, I mainly work on implementing marketing strategies in emerging countries.
It's not easy working as a consultant; you have to build networks all the time and get in mind the financial aspects, as, for instance, many projects are not paid on time! But I like the flexibility of this work; Monday is my horse-riding day for instance!
What are the key factors in your professional success in this sector? What would be your suggestions to young professionals who want to work in your sector, or who seek to have an international career?

 I think that first you have to be in the profession that you have the passion  for, you have to like what you do, you need to have the heart for it. You        would feel then naturally committed.  Then, if you work with passion, you    will be successful!
I know that from experience: I studied industrial engineering, and I really  hated it. After my military service, I went into the tourism business, a sector I liked and I knew from my years studying.  Then, I travelled a lot, I managed to raise capital… and here I am!
How do you see the future of the quick service restaurants industry in the world? How is this sector evolving?
The Food service industry is changing, since the 2008 credit crunch. Generally speaking, one can consider four segments within the food service industry: fine dining, casual dining, quick service restaurants, and coffee chains.
The first victim of the 2008 crisis was the fine dining sector. But the whole industry was impacted during the following months. For instance, in the classical quick service restaurants, one admit that the customers eat quickly and move away. Now customers are looking for a compelling experience, a nice ambiance, a more comfortable environment… So Fast casual (QSR combined with casual dining, where the customer orders and pays but is served in disposable plates) is the highest growing segment. Nowadays a new trend is developed: the flex casual services. Flex casual restaurants are fast casual restaurants during the day, but for dinner they offer full services.
Furthermore, the coffee chains are also growing, as it covers the full day for a little investment, as for instance there is no kitchen, but breakfast, snacks opportunities, as well as late hours.
There's a big change in this sector because of consumer expectation.
The fast-food concept is generally quite popular in the Western world. Nevertheless, you are providing consultancy for Asian and Middle-East countries and Turkey. Does it follow the same trend of popularity as in Western countries?
No, actually the trends are really different because of cultural aspects. The way to enter the market is different and the consumer behaviours are different as well. American companies say : act globally, think locally. They consider that to make a business booming, you have to take the most successful aspects of the business developed elsewhere (cleanness, consumer habits, technologies, design…), and then adapt to the local conditions and habits. The quick service food industry serving practice even change from Europe to the US: in France wine can be provided; in Siberia, a consumer can ask for vodka whereas in Moscow, beer can be supplied! In India, hamburgers should never been made of beef meat as people "respect" the cows…
Concerning the local habits, the drive-through business represents 70% in the US, whereas in the Middle-East and Turkey, going to the quick service restaurant represents a social outing; families and friends enjoy to spend time there. In Saudi Arabia or Kuwait, home-delivery food is a growing business.
How important are social responsibility and ethics in business life?

 Ethics, integrity, honesty, are very important, definitely.  When I was working for  the Pepsi Co. group, integrity and honesty were considered as essential qualities  for a good leader. Though, all the employees had to fill an anonymous survey to  evaluate their managers.
Secondly, I learned that social responsibility is important through my experience in Saudi Arabia. In the US they always talk about CSR, as an objective for the managers. First, I thought that revenue, business, plans, bottom-lines and so on, were more important, that CSR costs to much to be taken seriously ! In Saudi Arabia, we got in trouble because of a toy we were giving as extra. The Saudis considered this product as religiously inappropriate, despite the fact that we had all the required governmental authorizations. Even though the toys had been destroyed, the negative perception of the enterprise remained the same.  A full process was implemented to restore the image of the firm
among Saudis. We managed to help the community by collaborating with various organisations, and thus we started to implement a lot of social responsibility programs. And a few years later, while US companies suffered from boycotted, the organisation did not!
The corporate social responsibility has to be accepted from the top. If you are at the top and don't believe in it, don't support it, the organisation itself can't support it. If the whole organisation is not committed, it can't work.
According to you, what is the importance of volunteering in professional life?

 Volunteering and professional life can be combine-able  depending on the time you spend on each. Volunteering  activities  also have to be flexible, especially when you  work as a consultant!
 You are considered as a multicultural  talent with your  Turkish and Belgian  backgrounds. Where does this  interest  come from?
In 1977, I was a 20-years-old student, but there were a lot of students' movements and boycotts in the universities. Instead of staying at home, I decided to work in a travel agency as a chauffeur for businessmen. Initially, my multiculturalism started like that: meeting multicultural business people, chatting in English. It only lasted 40 minutes, I liked it as every time, I was confronted to a different experience, a new nationality, a new culture. Apparently the company liked my work, I guess that these businessmen gave good feedback. Then I started to tour people to Europe from Bulgaria, to Yugoslavia, Switzerland, France, Germany… My main job was to interact with hotels and restaurants to ensure that the program was going well. This is how I started to be exposed to the "Western world".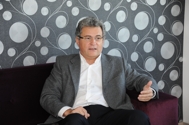 Then, during my career, I went to Iran, to Saudi Arabia, and every time it was  completely different. In Saudi Arabia, I was working with 21 different  nationalities: how is it possible to interact with all these people, how is it possible  to get the same vision, the same passion, the same ambition to all of them? You  have to adapt. If you don't, the company cannot be successful. You have to find a common thing between all these different people. In the end, what we found from this original group was that everyone was interested in earning money, even if each of us had a different ambition. That was exactly the same thing for me. So I said : if the company is successful, if the company works more, the people working in it would earn more as well. It is a perfect link to the company success and profitability.
Do you think there are any obstacles against immigrant professionals in Belgium and in other Western European countries?

 To me, these obstacles depend on the environment. If you go back to the  1970s the situation was completely different… Now I feel the things are  changing. Today's world is much better if you're in the professional  environment where the nationality doesn't make a difference. Look at  who's leading Pepsi or Coca-Cola!
 You are very present on various Social Media such as Twitter. According to you, are these online platforms the future of communication?
Generally speaking, I think that communication is the key issue to solve problems! New technologies and communications help to fill the gaps among people. Technological development is enabling communications. In the 1970s, there were only teletext (telegraph)… technology is removing the barriers for communications. Look just at the people who have been exposed to different cultures, compared to those who never travelled! Former expats for instance behave in a completely different manner than other people!